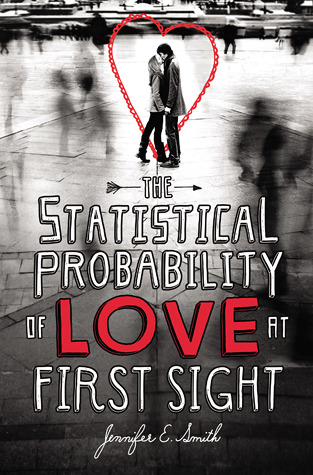 The Statistical Probability of Love at First Sight
(So long to type out -_-)
by
Jennifer E. Smith
My Rating:
★ ★ ★ ★ ★
LOVEDD!!
Current Average Rating on Goodreads:
3.81!
Synopsis:
Who would have guessed that four minutes could change everything?
Today should be one of the worst days of seventeen-year-old Hadley Sullivan's life. Having missed her flight, she's stuck at JFK airport and late to her father's second wedding, which is taking place in London and involves a soon-to-be stepmother Hadley's never even met. Then she meets the perfect boy in the airport's cramped waiting area. His name is Oliver, he's British, and he's sitting in her row.
A long night on the plane passes in the blink of an eye, and Hadley and Oliver lose track of each other in the airport chaos upon arrival. Can fate intervene to bring them together once more?
Quirks of timing play out in this romantic and cinematic novel about family connections, second chances, and first loves. Set over a twenty-four-hour-period, Hadley and Oliver's story will make you believe that true love finds you when you're least expecting it.
I haven't rated a book 5 stars in aaagess!! :O It's such a good feeling to click that 5 star button. And this book let me have that good feeling today. *beams* Worth it.
It was also third person PoV, which was refreshing because the last time I read third person was when I read the Book Thief in February...o.o Foreverrrrr!! The writing was spot on perfect even with the little flaws, and I didn't want it to end :(
American girl Hadley meets the amazing British boy Oliver after missing her original plane flight by FOUR MINUTES. Set over a 24 hour time period, their stories intertwine, and the rest is up to fate.
I have to admit, I picked up the book expecting a good laugh. The title was strange, the storyline seemed cheesy, what else did you expect!? But
BAM
it totally threw me off after the first few chapters. Sure it was sort of unrealistic, but we do need those kind of fairytales to give us good heartwarming daydreams sometimes ;) Surprisingly, the story itself was NOT focused on love. I think that's what I liked about it the most. If it was about a boy crazy 17 year old lovestruck girl smitten with accents and cute guys, I would have hated this. but Hadley was not any of those :D Awesome. It wasn't even technically "love at first sight". and believe me, I've read plenty of those in YA books that are
supposed
to be focused on action *facepalm* Anyhoo, our wondrous day begins when dear Hadley misses her plane flight to her dad's wedding. and also a certain cranky old lady plays her part ;) Swoonworthy Oliver the gallant knight takes it on him to help her, and he sets off our story that keeps readers glued to their books. Pure magic.
It's a pretty short book too..only like 236 pages long. But you'll never forget this, I guarantee. I
would
have finished it in less than 4 hours, but my parents were yelling at me to sleep..so yeah...XD A beautiful book that earns a place in your heart. Oliver will also stay in your heart......o.o He's amaazinnggg!!!<3 I bet you'll be expecting Olivers poppin up whenever you go to airports, but sadly, I'll have to discourage you about that since there's only one Oliver in the world ;( *sighs sadly* Such a shame.
Oh and I think Oliver deserves a whole section. *clears throat and begins Oliver gushing*:
Ohhhmerrgauushh!! LOVEEE!! :D <3<3 He was the perfect brit boy hottie XPP Hilarious, mysterious, chivalrous- *winks*-, cute, accent, good natured :P, blond (I..think..or maybe it was sandy o.O). Sounds a bit like my Liam, but he was all together really different from typical book boys. Just soooo looveewablee *huggles*
Highly recommended! :D