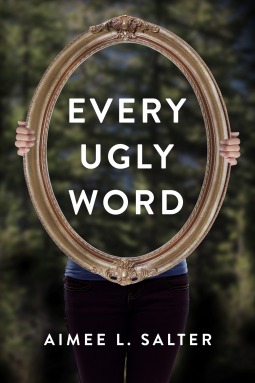 When seventeen-year-old Ashley Watson walks through the halls of her high school bullies taunt and shove her. She can't go a day without fighting with her mother. And no matter how hard she tries, she can't make her best friend, Matt, fall in love with her. But Ashley also has something no one else does: a literal glimpse into the future. When Ashley looks into the mirror, she can see her twenty-three-year-old self.

Her older self has been through it all already—she endured the bullying, survived the heartbreak, and heard every ugly word her classmates threw at her. But her older self is also keeping a dark secret: Something terrible is about to happen to Ashley. Something that will change her life forever. Something even her older self is powerless to stop.
Every Ugly Word by Aimee L. Salter
My Rating:
★★★★★
Stand Alone.
Page Count:
257
Recommended For:
People looking for a great contemp/paranormal read.
Genres:
YA, Contemporary, Romance, Paranormal
Cover Rating:
7/10
———————————————————
It isn't what happens to you in your life that destroys you. It's what you do about it.
- Aimee L. Salter, Every Ugly Word
———————————————————
I for one, can't remember the last time I just plowed through a book and finished it just like
that.
It was just absolutely brilliant! From the first page and on, you can tell it's going to be different, original, and emotionally impacting.
The book touches a well..touchy subject: bullying. Bullying is real, and it's still going on strong in loads of places.
A lot of contemporary realistic books have trouble in getting in a fresh and intriguing perspective for the readers because frankly, there aren't THAT many things you can write about. It's either love, bullying, rape, ect. But Salter really made this stand out.
This book mixes in a bit of paranormal and the classic 'i'm in love with my best friend' structure. <3
The Concept
What if you looked into the mirror, saw your reflection,
and it talked back?
This to me, was very spooky yet oddly creative. Because who's advice do you usually tend to listen to more? Yourself. Your Older Me is looking from the future, giving you advice and tips having lived everything through already. Would you trust yourself completely? I honestly don't know the answer to that..
Let's meet a few characters...
What was wrong with me? Why couldn't I be the kick-ass heroine, like in books? Or the strong noble star of a movie? Because it hurts.
— Aimee L. Salter, Every Ugly Word
I adored Ashley, our main. She goes through SO much, but she's always strong in her own way and refuses to give up. I had an instant connection with her although I've never experienced anything like she did (thank goodness), and throughout the book I just wanted to give her a box of chocolates. Is that weird? Totally random but yeah :P
I loved how her therapy was art. For some reason, I feel drawn a person so much more if they can express through something they love doing. I just with I could do that :D
The author's note at the end was awesome to read, because it gave a more indepth PoV on our author and characters. As Salter got bullied in her life as well, she put herself in her writing. She knows
how
Ashley felt, and what simple words can mean to a person. That's why Ashley is such a great, believable character. One of the reasons I love it is because it felt like Salter did just what Ash did.
Except instead of art, it was writing in her case. When authors truly just mean what they're actually writing; when the characters, and the whole world they're putting from their hearts onto paper are real representatives of them; It becomes my fav :)
Matt was cute! He wasn't perfect, as told many times in the book. I don't trust his judgement, but I liked his character xD I want a bestie like him :( but Hmmm wonder when I'll pick up a contemp book where girl/guy bestfriend relationship stay platonic instead of either being unrequited love or they eventually start dating.. like Harry and Hermione! :P
Ending:
The ending was sooo just well done! I don't want to give anything away. Go away and read it for yourself.
Overall, it was a very thought provoking read (the mirror bits are confusing because well.. it kind of felt psychological but also real so..), but I finished it really quickly.
Powerful and emotional, it raises awareness of how powerful words are, and how you can turn that power into something good if you just keep strong.
Seriously, I don't want to talk anymore..just shoo and pick up a copy. Or technically a kindle/ipad/ipod whatever because there apparently aren't any physical copies printed.. shame :(
I knew this day was the turning point. The moment I'd look back on and say, "That's when my life changed."
-Aimee L. Salter, Every Ugly Word.
—MissOddball™ Over and Out.

**Thank you thank you Netgalley for providing me with a review copy!!<3**