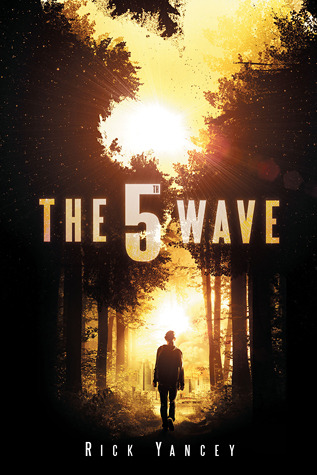 The 5th Wave
by
Rick Yancy
My Rating:
★ ★ ★ ☆ ☆
Honestly, it was boring.
Average Rating on Goodreads:
4.12 ..... ._.
Synopsis:
The Passage meets Ender's Game in an epic new series from award-winning author Rick Yancey.
After the 1st wave, only darkness remains. After the 2nd, only the lucky escape. And after the 3rd, only the unlucky survive. After the 4th wave, only one rule applies: trust no one.
Now, it's the dawn of the 5th wave, and on a lonely stretch of highway, Cassie runs from Them. The beings who only look human, who roam the countryside killing anyone they see. Who have scattered Earth's last survivors. To stay alone is to stay alive, Cassie believes, until she meets Evan Walker. Beguiling and mysterious, Evan Walker may be Cassie's only hope for rescuing her brother—or even saving herself. But Cassie must choose: between trust and despair, between defiance and surrender, between life and death. To give up or to get up.
4th Wave. Alien apocalypse. One boy. One man. One alien. One very determined girl. One story. DUN DUN DUUUN!!!
Eh. I don't get the hype. It was so boring it's not even funny.
But at least Cassie was coooool!! :D They didn't misuse mah nammmee for some wimpy chick!
She was all like HIYAAA DONT MESS WITH MEEEE OR YOU'RE GOIN DOWWWN. *ninja moves with MI6* I'M COMING FOR YOUU, SAMMYYY!!
Oh one of the things that annoyed me most: THE POVs. *tears hair* It was tewwible. IT DIDN'T EVEN INDICATE IT CHANGED. *facepalm* I had to reread loads of paragraphs.. and it was TRIPLE PoVs. Cassie, Sammy, Alien dude, One human dude. Waaaaait... oh. 4 PoVs. IT WAS FOUR POINT OF VIEWS. DO YOU
KNOW
HOW CONFUSING THAT IS??
I was confused enough when it was only Caassiiiieee!! *pouts* The story was so nonsensical throughout the book. Definitely not one of my favs. I am honestly really disappointed... everyone luurrrves this one, and obviously as pointed out *points above* it has a hecka high average rating.
Maybe it's because alien books don't appeal to me much? Apart from the Host..which was quite nice although Twilight wasn't my cup of tea at all. Oh Lux is also an awesome alien series!! :D But yeah. Aliens have to be well written or they come off as either really really cheesy, or just plain stupid. I think this was the latter...XD I mean, they didn't even have cool superpowers. They did absolutely NUFINK. Cept invade the world and all that jazz. So yeah.. I don't really know what to say. Mediocre. Nothing too special, but not like GAWSHH THIS BOOK IS JUST HORRID. Just meh..
*awkward silence*
I will not be reading the sequel. Sowwy.
-MissOddball™ Over and Out.