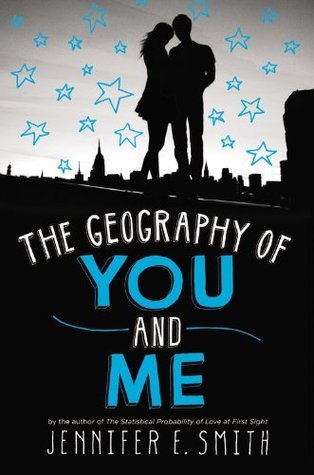 The Geography of You and Me
by
Jennifer E. Smith
My Rating:
★ ★ ★ It was a let down....since yall know how much I love Miss Smith .-.
Average Rating on Goodreads:
★ ★ ★ ★ 3.79 Stars.
Synopsis:
Lucy and Owen meet somewhere between the tenth and eleventh floors of a New York City apartment building, on an elevator rendered useless by a citywide blackout. After they're rescued, they spend a single night together, wandering the darkened streets and marveling at the rare appearance of stars above Manhattan. But once the power is restored, so is reality. Lucy soon moves to Edinburgh with her parents, while Owen heads out west with his father.
Lucy and Owen's relationship plays out across the globe as they stay in touch through postcards, occasional e-mails, and -- finally -- a reunion in the city where they first met.
A carefully charted map of a long-distance relationship, Jennifer E. Smith's new novel shows that the center of the world isn't necessarily a place. It can be a person, too.
Okay. So, first of all, I would like to say that this is my FIRST Jen E. Smith book I didn't like all that much. (I read the Statistical Probability of Love at First Sight and This is What Happy Looks Like. Actually I read This is What Happy Looks Like before The Geography of You and Me *OMG THESE TITLES, PEOPLE*, but I wanted to write this one first since it was fresher in my mindd :D)
Lucy and Owen get trapped in an elevator during a city blackout for half an hour one day, and *poof* something matches between them. The reason why I didn't like this as much as others is quite obvious, in my case. You see, In the Statistical Probability of blabla, despite the title, it isn't actually Love at first sight. That's why it stuck with me so much and why it's one of my favourites. In This is What Happy Looks Like, it isn't love at first sight either. Also one of my favs. Buuuttt you probs guessed it by now XD In THIS IS THE GEO OF YOU AND ME, IT IS LOVE AT FIRST SIGHT. Albeit the sweetness, it was not her best work. You know a guy for half an hour in the dark, maybe a few hours more during the time on the rooftop, and like just..... no. No. It just....ugh. The whole book revolves around that ONE night on the rooftop and in the elevatorrrrr! It was NONSENSICAL. NONSENSICAL, YA HEAR?!!
"
Lucy and Owen's relationship plays out across the globe as they stay in touch through postcards, occasional e-mails"
Postcards were one liners. They only did proper email convos a few times. *facepalm* I didn't get it. Whyyyyyyy must you fail me like thisssss!!
and DUDE. LIAM. LIAM. LIAM. and WHATSHERNAME. They were props for you guys? Sweet scottish guy comes and treats the new girl amazingly well for months and you ditch him for a guy you knew for a few hours. Sweet..ish.. girl is extremely friendly to new guy and you ditch her for elevator girl. It was MONTHS ago, man. I liked Liam better than Owen anyways -_- Sigh. Liam was so nice *cries* Poor guy. and he had an accent xD
The ending was alright, I suppose... still really buuummmmmeddd though ;( So yeah... It was still kinda entertaining, and a light read. I would recommend that you read either the Statistical Probability of Love at First Sight, or This is What Happy Looks Like first, then move on to this one AFTER you have experienced her more awesome novels :D
*nods* I have wonderful solutions xD
-MissOddball™ Over and Out. *salutes*