Teaser Tuesdays
is a weekly bookish meme, hosted by MizB of
Should Be Reading
. Anyone can play along! Just do the following:
•
Share two (2) "teaser" sentences from somewhere on that page
• BE CAREFUL NOT TO INCLUDE SPOILERS! (make sure that what you share doesn't give too much away! You don't want to ruin the book for others!)
•
Share the title & author, too, so that other TT participants can add the book to their TBR Lists if they like your teasers!
Okkaayy peoples! Cassie here. My first Teaser Tuesday :D I always find these fun to read.
My teasers will be from
The Beginning of Everything
by Robyn Schenider. The book was awesome, I juuuust finished it, and I'll be posting a review soon! Be on the lookout *winks* Here we go: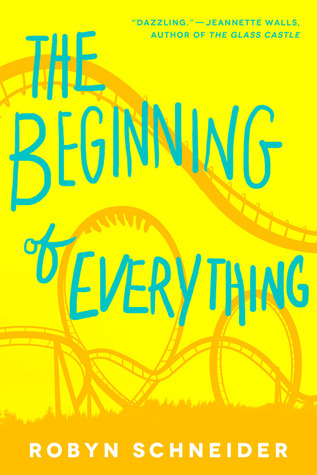 Source of Pic: Goodreads


"So Ezra," Phoebe said, sliding onto the bench next to Luke. "Hows life as a teenage vampire?" Toby snorted, and Cassidy snickered through a mouthful of cupcake.
"Oh come
on
," Phoebe continued. "You're asking for it. Pale skin, black clothes, no lunch, and that whole brooding thing? It's hilarious. You should get some body glitter and go after an unsuspecting freshman."
"You should!" Cassidy agreed. "Tell her you're a dangerous monster. And mention how good her blood smells."
"Wrong time of the month on that one, and I'm getting slapped," I muttered,
and everyone laughed.
AND:


There was a little smear of sunscreen below her ear.
"Wait," I said, reaching to wipe it away. "You had sunscreen on your cheek."
"Did you get it?" Cassidy asked.
"No, I smeared it bigger."
"Whatever," she said. "At least I don't have sunscreen in my
hair
"
"It's not sunscreen. You're turning my hair white."
What are your teasers? Share below!
—MissOddball™ Over and Out. *salutes*