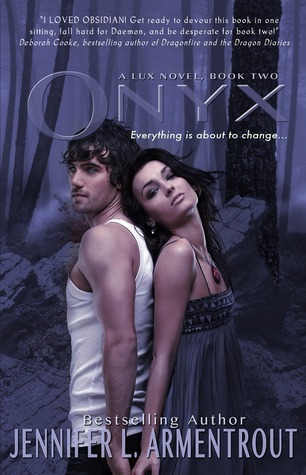 Source of Pic: GoodReads
Onyx
by
Jennifer L. Armentrout
My Rating: 5 out of 5 stars
Average Rating on GoodReads:
Pages: 366
Synopsis:
Being connected to Daemon Black sucks…
Thanks to his alien mojo, Daemon's determined to prove what he feels for me is more than a product of our bizarro connection. So I've sworn him off, even though he's running more hot than cold these days. But we've got bigger problems.
Something worse than the Arum has come to town…
The Department of Defense are here. If they ever find out what Daemon can do and that we're linked, I'm a goner. So is he. And there's this new boy in school who's got a secret of his own. He knows what's happened to me and he can help, but to do so, I have to lie to Daemon and stay away from him. Like that's possible. Against all common sense, I'm falling for Daemon. Hard.
But then everything changes…
I've seen someone who shouldn't be alive. And I have to tell Daemon, even though I know he's never going to stop searching until he gets the truth. What happened to his brother? Who betrayed him? And what does the DOD want from them—from me?
No one is who they seem. And not everyone will survive the lies…
The second Lux novel...Just as good as the first :D I absolutely love Onyx. This one doesn't focus as much on the relationship, although that is still very present, between Katy and Daemon, but focuses a lot on Katy and her growing powers.
Yep, you heard me right. Katy has powers. Apparently, when Daemon healed her that night in the clearing, he altered her DNA somehow to where she became a hybrid of Luxen and human. Obviously neither Katy or Daemon tell anyone else about this because of the fact that it's forbidden for a Luxen to heal a human.
Then Blake come strolling into town...God I hate him. He deserves all the wrong names that Daemon calls him throughout the book and so much more. If I were Daemon and Katy, I wouldn't have let him go at the end of the book. I know that too many people had died that night (some that broke me hear :( ) but come on! Look how much trouble he caused you! And how much trouble he's gonna cause you later one!! Ugh..Just...UGH! Flake you really get on mah nerves.
*takes deep breath* Okay..Now that that is done xD I'd also like to point out that Will, the doctor that Katy's mom is dating, is a complete ass and needs to be taken care of pronto. I can't believe he was using her mom to get close to Katy just because he wanted to be healed forever like she had been. I get not wanting his cancer to come back, but that was low, and I want him dead.
...It seems like I'm a violet person due to these rants about killing people...but I swear I'm really not XD
Now that ending...O.O I just have to say that was really unexpected. I mean for him to come back without her and everything...I never did understand why DB came back without looking for her...And just to tell you guys, I'm not gonna say who I'm talking about *evil laughter* Y'all will just have to read the book :D
Sorry this review was so short /: I tried so many times to write this review and it just didn't work out so well. That don't mean I didn't love the book though xD It's still one of my favorites
~LittleMissTotem Ruffling Your Feathers ;)