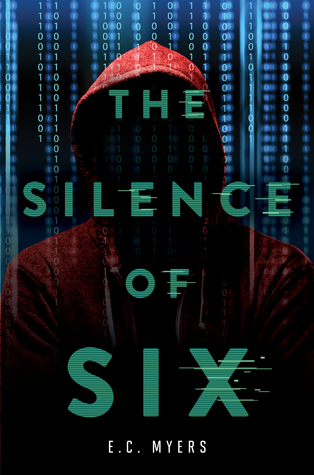 "What is the silence of six, and what are you going to do about it?"
These are the last words uttered by 17-year-old Max Stein's best friend, Evan: Just moments after hacking into the live-streaming Presidential debate at their high school, he kills himself.
Haunted by the image of Evan's death, Max's entire world turns upside down as he suddenly finds himself the target of a corporate-government witch-hunt. Fearing for his life and fighting to prove his own innocence, Max goes on the run with no one to trust and too many unanswered questions.
Max must dust off his own hacking skills and maneuver the dangerous labyrinth of underground hacktivist networks, ever-shifting alliances, and virtual identities — all while hoping to find the truth behind the "Silence of Six" before it's too late.
The Silence of Six by E. C. Myers
Standalone.
Page Count:
368
Genres
: YA, Mystery, Thriller, Science Fiction
Cover Rating
: 9/10
The unknown is scarier than the truth.
- Silence of Six, E. C. Myers
———————————
Okay, when I first started this, I had absolutely NO idea what this was about. Which makes it more exciting for me, no? But I'm glad I went into it blind because all the events were more shocking and unexpected. This was really a high adrenaline suspense novel!
Introduction dun dun duun:
You and your best friend loved hacking for fun.
It was how you bonded, and all your childhood memories lies in it.
You, however, saw the dangers it was going to bring you.
So you quit your hacking hobby successfully.
But you also stopped talking with your friend as much as you did before.
One day, there is an important school rally that involves the presence of USA's potential President.
They're filming on TV! Your school is live to the country!
But - suddenly your best friend comes on screen.
You of course instantly recognise him. Others don't.
What is he doing there?
This is not part of the rally.
He starts speaking.
What is he saying? What does that mean?
Then, He puts a gun into his mouth.
WHAT IS HE DOING?!
Bang
.
Chaos.
Plot
:
First let me say the pacing was GREAT. It kept me guessing till the end!! I was never really confused either of what was happening. The only bits that left me a bit clueless was the computer terminology, since I have NO idea about any of that. If I could understand the story though, I think pretty much everyone else in the world can too... xD Techie impaired person over here *waves*
Characters
:
I liked all the characters a lot actually! I loved Penny and her sister Risse's relationship the most :D
It was so nice to see siblings working together with something they love and are so good at!! Makes me really really want an older sister. EVERYONE I know with older siblings adore their siblings… aw :(
I also liked Max/Penny's relationship since it was a little complicated and technically wasn't romance. So sweet. I don't get the point of Courtney (Max's gf).. I dun like her and she doesn't deserve Max.
Ending
:
Aww the ending made me tear up ;( So sad. Anyways, it was funny how even though the whole book was so suspenseful and action filled, the world didn't care. You know those movie scenes where for example there's a house, and inside the house there's something REALLY CHAOTIC going on, but then the camera suddenly zoomes out and there's this oblivious old lady walking by all peacefully, and the town is all quiet? The trouble is only in the house. No one really knows or cares except the people involved. It gave off that feeling! Like wow, our problems are really small to the world. Nothing really changed apart from you. Ahahaa I'm getting all deep and confusing but you get the point.
Ahem, anyways, what i'm saying is it's a really gripping read about computer hacking that you should definitely check out! :D
★★★★
—MissOddball™ Over and Out.